Liposuction
Suction-assisted lipectomy, (also known as liposuction, liposculpture, fat suctioning, or suction lipectomy) is a procedure for removing unwanted fat deposits. It can be effective on the chin, neck, abdomen, hips, thighs, knees, ankles and upper arms.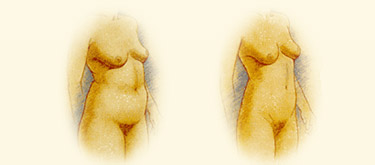 Liposuction is not a substitute for weight reduction. This procedure is ideally used for the removal of fat that is resistant to exercise and diet. You must be within 10 to 20 pounds of your normal weight before surgery is performed.
Ultrasonic assisted liposuction (UAL) is widely acclaimed as the latest technique for safely removing fat. This approach has been featured in numerous media presentations. UAL involves the use of ultrasonic energy emitted from a special instrument causing the fat to liquefy prior to its removal with suctioning. This advanced technique offers many advantages including the possibility to achieve more precise body contouring, the removal of larger volumes of fat and some skin tightening. Depending on your needs, a UAL procedure may be recommended in combination with the traditional tumescent liposuction technique, a method we have used for the past several years.
Tummy Tuck
Abdominoplasty, more commonly called a "tummy tuck", is a major surgical procedure that removes excess skin and fat from the middle and lower abdomen and tightens the muscles of the abdominal wall. The procedure can dramatically reduce the appearance of a protruding abdomen. It does, however, produce a permanent scar, which, depending on the extent of the original problem and the surgery required to correct it, can extend from hip to hip. If your fat deposits are limited to the area below the navel, you may require a less complex procedure called a partial abdominoplasty, also known as a "mini-tummy tuck".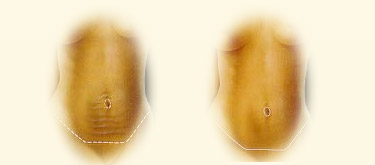 The best candidates for abdominoplasty are men and women that are in relatively good shape, but are annoyed by a large fat deposit or loose abdominal skin that seems resistant to diet or exercise. A tummy tuck is particularly helpful for women who, as a result of multiple pregnancies, have stretched their abdominal muscles and skin beyond the point that it does not return to normal. In older patients, loss of skin elasticity, which often occurs with slight obesity, may also be improved with this procedure.
Dr. Parrish will recommend the procedure that is right for you and will come as close to creating your desired body contour as is surgically possible.
Tummy tucks are usually performed in our accredited surgical suites under general anesthesia. You must arrange for someone to drive you home after your surgery and to help you out for a day or two. Most people return to work in two to three weeks.
NEW! COOLSCULPTING


CoolSculpting is a revolutionary non-surgical contouring treatment that freezes stubborn fat, which then is naturally eliminated from your body. No needles, no special diet, no supplements, no surgery. And most importantly, no downtime. It's safe, FDA-cleared, effective, and does exactly what it's suppose to do. Undeniable results after just one treatment! coolsculpting.com
Arm Lift
An arm lift, or brachioplasty, is a surgical procedure that reshapes the under portion of the upper arm, from the underarm region to the elbow. Fluctuations in weight, growing older and even heredity can cause your upper arms to have a drooping, sagging appearance. Exercise may strengthen and improve the underlying muscle tone of the upper arm, but it cannot address excess skin that has lost elasticity or underlying weakened tissues and localized fat deposits.

If the underside of your upper arms are sagging or appear loose and full due to excess skin and fat, an arm lift may be right for you. Incision length and pattern depend on the amount and location of excess skin to be removed, as well as the best judgment of your plastic surgeon. Incisions are generally placed on the inside of the arm or on the back of the arm, depending on the surgeon's preference, and may extend from the underarm (axilla) to just above the elbow. If fat is to be reduced during your arm lift, it will be excised or treated with liposuction.

Following your surgery, dressings or bandages may be applied to your incisions, and your arms may be wrapped in an elastic bandage or a compression garment to minimize swelling. A small, thin tube may be temporarily placed under the skin to drain any excess blood or fluid that may collect.